This is just a quick post to tell you guys that Tree of Savior game Open Beta is scheduled to be launched next wednesday, Mar 22th. I almost can't control myself of excitment! *-*
If you're a gamer/MMO fan, I hope to find you there!
More info here: https://treeofsavior.com/news/?n=278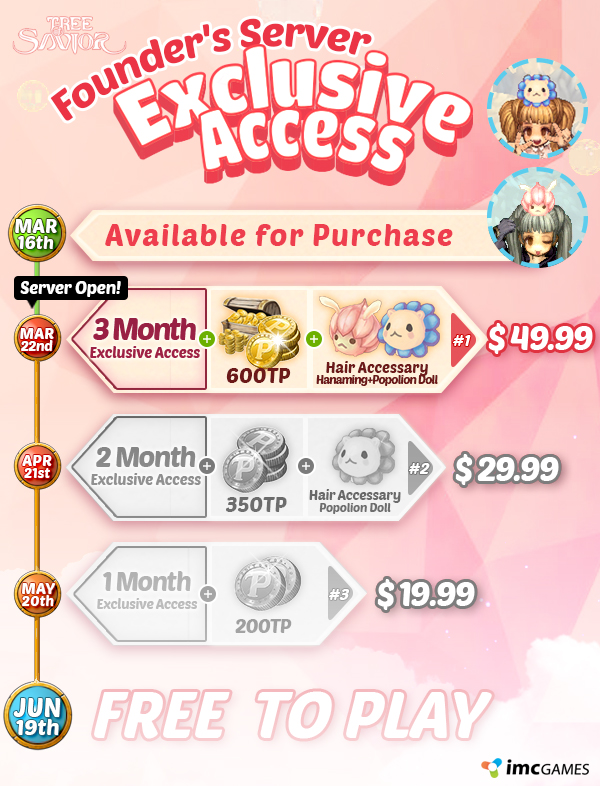 ---
Este é só um post rápido para contar à vocês que o open beta jogo Tree of Savior está previsto para a próxima quarta dia 22 de Março. E eu mal posso conter minha animação!
Se você é fã de MMOs, espero te ver por lá!
Segue a tradução do anúncio oficial feito pela página Tree of Savior Brasil abaixo:
"Boa tarde devotos de Laima, pedimos desculpas pela demora, demorou mais do que o esperado traduzir e revisar todo o conteúdo. Lembrando que tanto a notícia quanto a imagem foram adaptadas pela equipe da ToSBrasil.

Segue abaixo o pronunciamento da IMCGames sobre como irá funcionar o acesso exclusivo e antecipado ao servidor internacional:

"Saudações! Somos o time Tree of Savior.

Primeiro de tudo, gostaríamos de mostrar a nossa máxima gratidão a todos vocês que esperam ansiosamente pela versão internacional de Tree of Savior por tanto tempo.

Nós temos o prazer de informar que nosso cronograma foi confirmado.
A versão internacional de Tree of Savior da Steam dará seu início oferecendo um "Founder's Server: Exclusive Access"
Isso irá inicialmente permitir acesso antecipado aos compradores e após 3 meses, o servidor estará aberto a todos.
Existem 3 tipos de acesso exclusivo ao "Founder's Server" que serão lançados sequencialmente no decorrer do tempo.

O Acesso Exclusivo está programado para ser vendido a partir do dia 16 de Março, mas essa data está sujeita a mudanças dependendo do tempo de autorização da Steam.

Chegamos à decisão deste acesso antecipado com a finalidade de evitar o número excessivo de "Bot Accounts" (neste trecho a IMC pode se referir a contas para o uso de bots, ou contas geradas indiscriminadamente, o que poderia comprometer seu banco de dados) nos estágios inciais do servidor e para disponibilizar um ambiente estável para nossos usuários.
Além disso, o servidor internacional de Tree of Savior irá ter vários conteúdos customizados que não estarão disponíveis no servidor coreano.
Vamos desenvolver ou fazer mudanças em vários conteúdos especificamente para o servidor internacional, então esperamos que todos já tenham isso em mente. (*Por favor, confira os avisos e precauções abaixo)
Nós solicitamos a revisão para o acesso exclusivo à Steam e as vendas se iniciarão assim que a Steam autorizá-las.
Iremos continuamente atualizá-los sobre situações futuras.

Obrigado!

[Avisos e precauções ao comprar o Acesso Exclusivo: "Founder's Server"]
– Os usuários de localidades onde já temos parceiros locais serão restritos à compra na Steam Store e ao login no servidor internacional;
– Os países que terão acesso restrito são: Coréia, Japão, Taiwan, Indonésia e China;
– Para Taiwan, nós faremos um pronunciamento separadamente em breve;
– A composição dos itens no TP Shop e seus preços podem diferenciar-se da versão coreana;
– Um máximo de 5 TP podem ser acumulados gratuitamente. 1 TP será recarregado a cada 4 horas;
– Alguns conteúdos, balanceamento de personagens e etc, podem diferenciar-se da versão coreana;
– O número de "Mundos" (servidores) que serão abertos dependerá do número inicial de usuários online;
– Quando o serviço do jogo tornar-se Free to Play (19 de junho), novos servidores devem ser adicionados."

Compartilhe a palavra de Laima com seus amigos!

PS: Conversão literal de USD para BRL meramente informativa. Geralmente o preço em Real irá váriar pela Steam.

Equipe Tree of Savior Brasil"